Hi Friends,
Received an email from Google as they are shutting down Orkut on 30 September 2014. They offer the users to back up their data. You can find below, the steps to backup your data.
After ten years of sparking conversations and forging connections, we have decided that it's time for us to start saying goodbye to Orkut. Over the past decade, YouTube, Blogger, and Google+ have taken off, with communities springing up in every corner of the world. Because the growth of these communities has outpaced Orkut's growth, we've decided to focus our energy and resources on making these other social platforms as amazing as possible for everyone who uses them.
We will shut down Orkut on 30 September 2014. Until then, there will be no impact on you, so you may have time to manage the transition. You can export your profile data, community posts and photos using Google Takeout (available until September 2016). We are preserving an archive of all public communities, which will be available online from 30 September 2014. If you don't want your posts or name to be included in the community archive, you can remove Orkut permanently from your Google account. Please visit our Help Centre for any further details.
It's been a great 10 years, and we apologize to those of you still actively using the service. We hope that you will find other online communities to spark more conversations and build even more connections for the next decade and beyond.
You Can download the below information.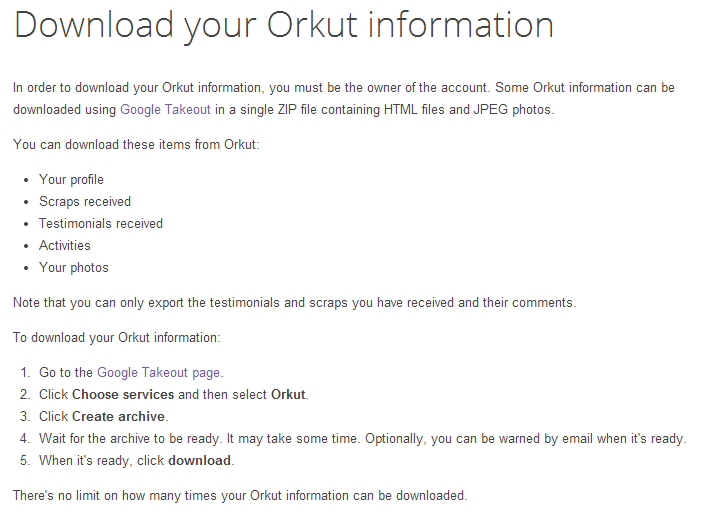 Step to Download/Backup your profile data.
Step 1:- Click on the below link
https://www.google.com/settings/takeout/custom/orkut
Step 2:-Select on the checkbox and select Orkut
Step 3:- You can download your contents in the below format and you can select any.
Step 4:- And then Click on the Create Archive Button
Step 5:- Below screen will appear and archive will be created.
Step 6:- After the archive is created you will receive an email on your Orkut Account. Click on the Given link.
Step 7:- Download the Archive.
Step 8:- Enjoy and thanks to Google…….
I Hope it will help you to get your data. If you like it please like my page on Facebook and post your valuable comments.
Cheers…….